Inside Message:
"May your holidays be filled with love, joy, and most of all, HEALTH!"
Card: CH-66
Postcard: PCH-066
Remaining stock: Cards 1800/ Postcards 900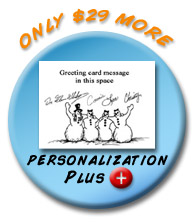 We'll print a signature with a character representing everyone in your office!
Inside Message:
"Best wishes for a joyous holiday season and for health and happiness every day of the new year!"
Card: CH-68
Postcard: PCH-068
Remaining stock: Cards 4300/ Postcards 2000